What is Periodic Calendar?
Periodic Calendar is a GUI application which assists in women menstrual cycles tracking and fertility periods prediction. This information can be used as supportive either for conception or contraception planning.
Periodic Calendar provides support for BBT and sympto-thermal methods which have the highest reliability in fertility periods prediction. User can choose any subset of the features to be used or even fall to the generic calendar method (which if used alone is very unreliable).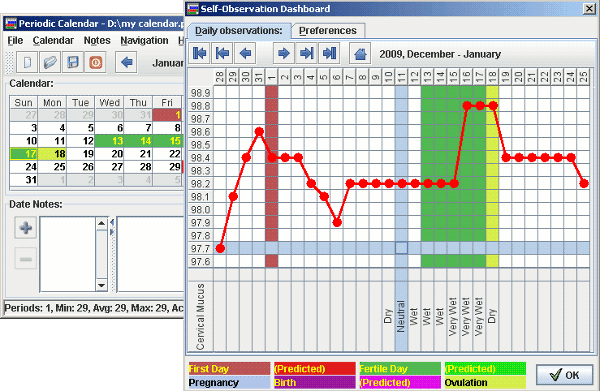 Authors of the Periodic Calendar still insist on not being an equal substitute to the fertility planning consultants or doctors. Before using this application please talk to your doctor or read a good book on the subject.
If you have any questions, suggestions or feature requests feel free to contact mrach AT users.sourceforge.net
THIS PROGRAM PREDICTIONS IN NO CASES CAN BE USED AS FINAL. THE METHODS USED ARE NOT 100% EFFECTIVE FOR ALL WOMEN.
This program is free software. You can redistribute it and/or modify it under the terms of the GNU General Public License as published by the Free Software Foundation.
If you have any questions regarding the GNU GPL, please read Frequently Asked Questions about the GNU GPL or its Ukrainian Translation.